THE GREAT ROAD TRIP

APRIL 27 - MAY 09, 2006

Audio log, Day 2

DAY 2, Friday, April 28, 2006

Stayed at the Hampton Inn, Kingman, Arizona. Very nice hotel, very expensive! Nice way to start off the trip, but I won't do it again. The hotel was new, and everything was high quality, with friendly staff. If you don't mind paying almost $200 for a room, it's a great place to stay. After leaving the hotel, I made a stop at the Super WalMart to pick up a few items. This is only the second time I've been in one of the Super stores.... man, that place is huge! Finally found what I wanted, and hit the road. First stop, White Rock Auto Court. Or, rather, what's left of the White Rock. Some time ago, possibly in 1982 when I was last here and saw the construction, the place was converted from an Auto Court motel, to apartments. The property is showing it's age, and treatment. Very run down looking, and the worse for wear. It's obviously not been an Auto Court for some time. My parents had stayed here in 1956, after they were married. From one comment I found online, the site was a decent overnight stop on Route 66 there in Kingman. That was a long time ago, however. The White Rock is now just a sad memory.
Off to the Courthouse, where my parents were married. Took a few pictures, noticed how the building resembled the courthouse and clock tower in "Back to the Future", and walked around a bit. Two crows nests were occupied, one on each side of the buildings facade. Huge nests, they look like they've been there for a while.
Onto the highway, eastbound Interstate 40. At Williams, got diverted by believing a sign that said "Williams / Grand Canyon, this exit". Well.... sort of. Once you drive through downtown Williams, then, yeah, you hit the road to Grand Canyon. Next time, I'll take the third exit, the one that actually goes to the canyon! Headed north, takes about an hour to get from Williams to the Grand Canyon. New 'city' there south of the canyon, it wasn't there last time I went through, in 1982. Hotels, fast food, visitor center, etc. On up to the park entrance, where I chatted with a very friendly Park Ranger about my visit. We talked about the all parks pass, and when I confirmed that it covered Sequoia-Kings Canyon, he asked if I was going to visit there, too. I told him I lived just down the road from it, and go up from time to time. He said, "Oh, in Visalia?" and I responded, "yeah". Turns out he was leaving the next day to go to Sequoia Park. I told him to have a good trip! Nice guy. Drove on up to the parking area at the south rim, and got out to take a look around. Dispatch Bear and I got some pictures, and fought off what seemed like billions of gnats buzzing around the parking lots. Spent some time looking around, then headed on out of the park. It's a big hole in the ground, and I figured there was only so much looking at a hole that I could do! Dispatch Bear was impressed, I could tell, since he was speechless.
On down the road to Flagstaff, in an area that was a National Forest. I kept looking around, thinking, "so where's the forest??". Once we got closer to the San Francisco mountains, and some pine trees started appearing, then I felt like I was in a forest. I made my way around the mountain, and into Flagstaff, then onto I-40 to continue eastbound. My destination was Meteor Crater, but, as Maxwell Smart would say, "Missed it by THAAAAAT much!". Got to the gate at 5:06, and the sign said 'closed at 5pm'. Shoot. Oh well, just another hole in the ground.... I'll catch it some other time!
Back onto the highway, and drove on to Gallup, New Mexico, where I stayed in a Red Roof Inn. Very inexpensive, and very well maintained. Staff was pleasant, and they had wireless internet. The room was clean and well maintained. I'll be staying here again, although at the time I didn't realise it. Bear grabbed one of the beds, and was snoring away in short order! I stayed up for a while and played online, then zzzzzzz for me. Tomorrow, the VLA!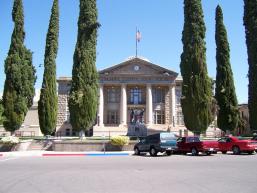 x


Day 3